This recipe (if you can even call it that) always reminds me of being a little kid, bartering my vegetables for after-dinner sweets. "If I eat the faux carbs, can I have some real carbs too? Please?!" Call it a compromise. Brown rice bumps up the protein and texture of lighter, leaner cauliflower rice for a satisfying side dish or base for proteins. Simple seasoning includes turmeric, which gives the whole dish its beautiful golden color.
Bonus: this recipe comes together in less than ten minutes with some of my Trader Joe's favorites from the freezer section. I don't eat much frozen food, but I almost always have brown rice and cauliflower rice on hand for quick, midweek cooking. You can of course use regular cooked brown rice and raw cauliflower rice if you prefer.
Obviously this is a pretty simple dish, so the sky is the limit when it comes to additions. Toasted pine nuts or cashews, cilantro, parsley, mint, feta, golden raisins and/or just about any vegetable would be delicious. Top with meat or fish for supper (like the taco bowl pictured here), or a fried egg for a light lunch.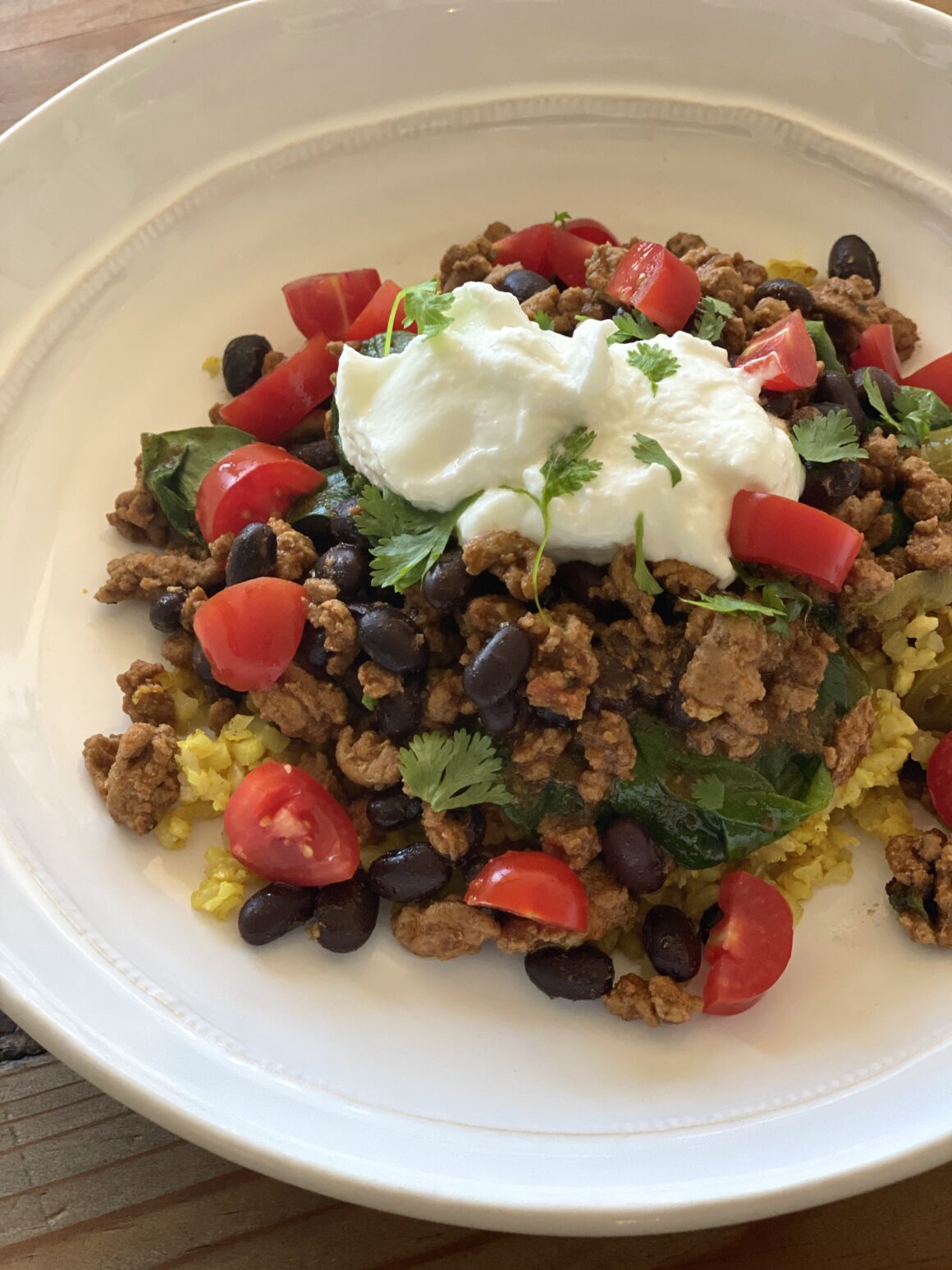 Serves 4.
Ingredients
1 (12 ounce) package of Trader Joe's frozen organic cauliflower rice (or 2 cups of raw or frozen cauliflower rice)
1 tablespoon olive oil
1 teaspoon ground cumin
½ teaspoon ground turmeric
dash cinnamon
1 (10 ounce) package of Trader Joe's frozen organic brown rice, cooked per package instructions (or 2 cups of cooked brown rice)
salt to taste
Method
Preheat a large, nonstick sauté pan over medium heat. Add the cauliflower rice to the dry pan. If frozen, cover and cook about five minutes; if raw, just stir for about three minutes.
When the cauliflower has softened, push it to the outer edges of the pan, leaving a hole in the middle. Pour the olive oil into the center of the pan, and add the spices to it. Toast for about 30 seconds, and then add the brown rice. Toss everything together until hot, and the golden color has spread throughout. Season with salt to taste, and serve.