Hello, hello! It's been a while. I could chalk my blogging hiatus up to a number of things— the pandemic, the holidays, the election, the after-the-election— but mostly December and January were BUSY and it felt like the right time to take a creative rest and reset. This community has been such a wonderful silver lining to an otherwise questionable year, and I am so grateful and proud and happy you're here reading, cooking, shopping and entertaining along with me, whatever that may look like these days! I'm so excited for 2021 here in our little virtual bubble.
Despite my excitement, choosing a recipe to kick things off again was… challenging. Something healthy? Timely with January detoxes, but a little lackluster. Something decadent? Too much after the holidays. Something simple? Not exciting enough.
So here we are, a month into 2021 with Super Bowl around the corner, and I'm just going to rip the band aid and give the people what I think they really want to eat this weekend: Nachos. I feel a little weird about my first foray into the new year being in the "game day eats" category, because, in case it wasn't obvious, I am not a "game day" girl, but let's just go with it. Nachos are delicious, and this version just happens to be somewhat healthy, a little bit decadent and pretty simple to put together. Check, check and check.
I typically make my nachos vegetarian, using refried beans in place of meat, but chili or pulled chicken would be equally tasty. The key is the bean to cheese to chip ratio, and more is more when it comes to nacho toppings. But the Pickled Pico is really the game changer. It's fresh, bright, spicy and a little bit sour— the perfect way to balance out loads of melted cheese.
Fun fact: this particular Super Bowl Sunday also happens to be my birthday. (God has a funny sense of humor.) So you can bet I'll be enjoying these with a glass of champagne, wearing my "Hooray Sports! Do the thing. Win the points!" tank top*. (I like to think I too have a funny sense of humor.) Does champagne pair well with Mexican food? Cheers, friends!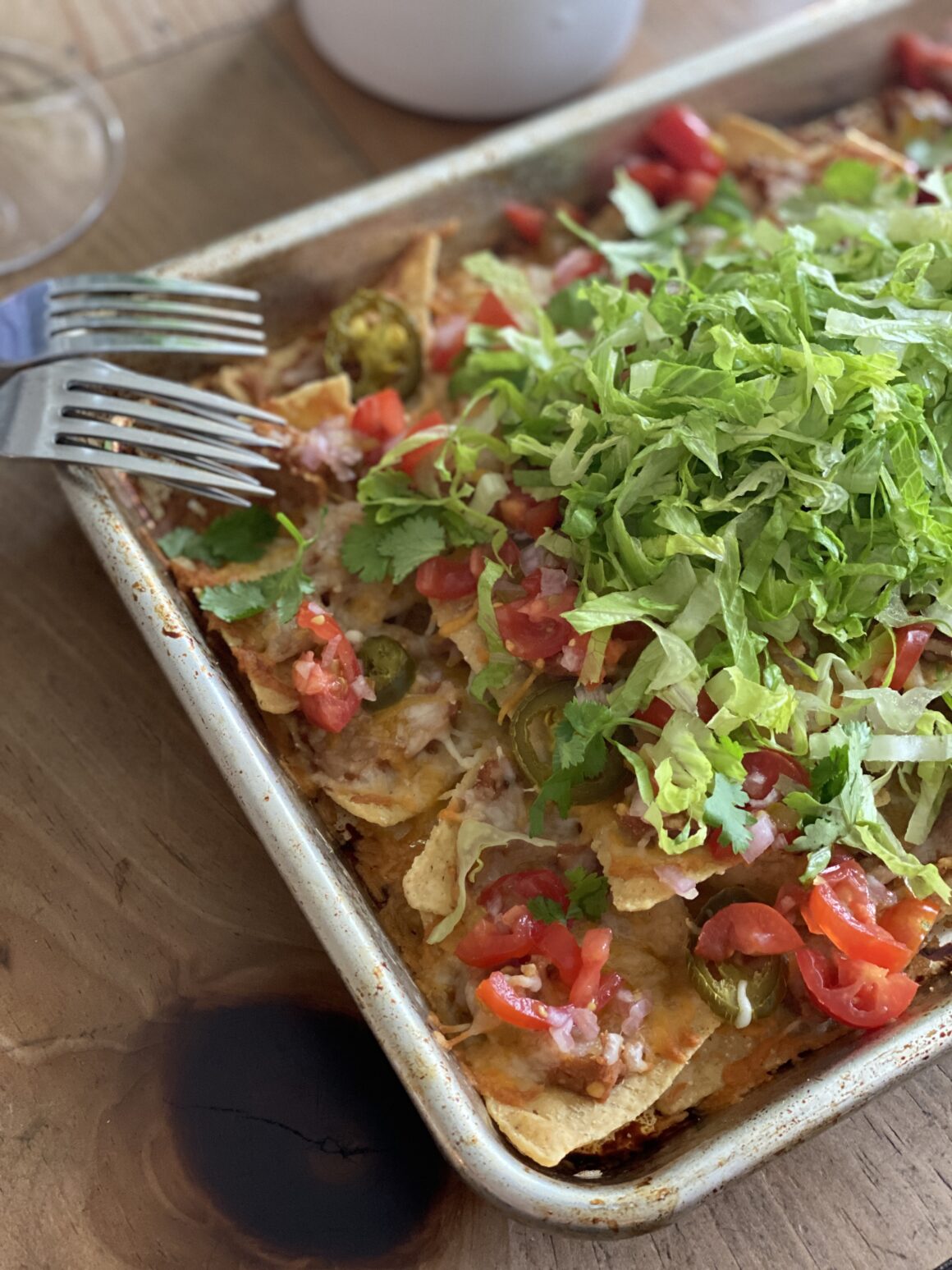 Serves 4.
Ingredients
6 ounces large tortilla chips (about half of a full-size bag)
1 cup refried beans (or chili of your choice!)
1½ cups Mexican shredded cheese blend
½ cup sliced pickled jalapeños
1 recipe Pickled Pico
½ head romaine lettuce, thinly shredded
2 tablespoons fresh cilantro leaves
½ cup Greek yogurt or sour cream for serving
Method
Preheat the oven to 400°F.
Spread out just over half of the tortilla chips on a small baking sheet (mine is 13×9″) or a similarly sized oven-safe vessel. Use a butter knife or the back of a spoon to spread about a tablespoon of beans (or chili) on half of the chips. Sprinkle with 1 cup of the cheese. Repeat this process to create a second, smaller layer with the remaining chips, beans and cheese, resulting in a sizable mound of soon-to-be nachos. Scatter the jalapeños on top and bake until the cheese is melted and the edges of the chips have started to brown, about ten minutes.
Remove the tray from the oven and spoon about half of the Pickled Pico over the nachos. Pile the shredded lettuce in the middle and roughly tear the cilantro leaves over the top. Serve everything right on the sheet tray with sides of the remaining salsa and Greek yogurt/ sour cream. Extra points for homemade guac!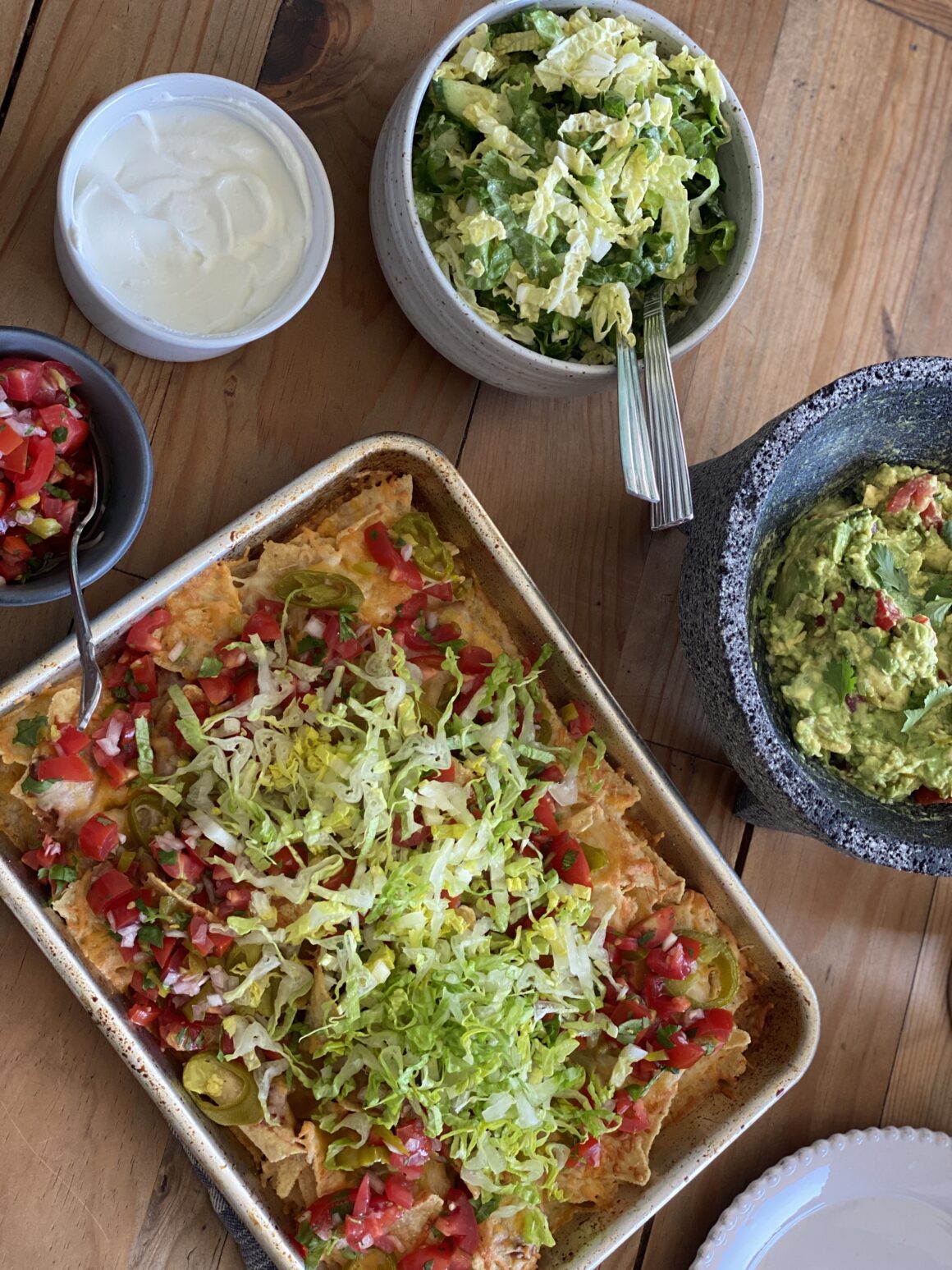 *This is an affiliate link, which means I receive a small commission if you purchase through this link. Thanks!