Is it me, or is orzo having a moment this summer?

I'm seeing it everywhere— blogs, restaurant menus, and lately, quite often in my own kitchen. Orzo has always been kind of a sleeper starch— getting pushed to the back of the pantry with forgotten "Texmati" rice (still not entirely sure what that is) and whole grains purchased on a health kick, but never actually desired (looking at you, barley). But not this season. Let's all appreciate that orzo is essentially pasta-rice, and what's better than rice that is pasta? Surely, nothing. Orzo is having a moment.

I generally prepare orzo one of two ways— toasted in olive oil and simmered in a pan of chicken broth and lemon juice until the liquid is absorbed and a lovely crust forms on the bottom of the pan (think Persian rice, but with pasta-rice!), or with seasonal vegetables, cheese, nuts and herbs a la pasta salad.

Now that we're in peak tomato season, a Tomato-Basil Orzo Salad, though not necessarily groundbreaking, just feels right. Add to the aforementioned headliners some feta cheese and toasted pine nuts, and you have yourself an addictive flavor profile and texture. When I say "addictive," I mean that we ate this straight from the fridge by the forkful. Thirsty? Grab a bite. Hot from the pool? Another mouthful. Making breakfast? Might as well…

This recipe also uses Banza chickpea rice, which has a similar texture to orzo. I like that it bumps up the protein a bit, and I feel less guilty about the regular trips to the fridge. Feel free to go full-orzo if you prefer. Just be sure to use great tomatoes with all of their juices, and bask in your very own summer moment.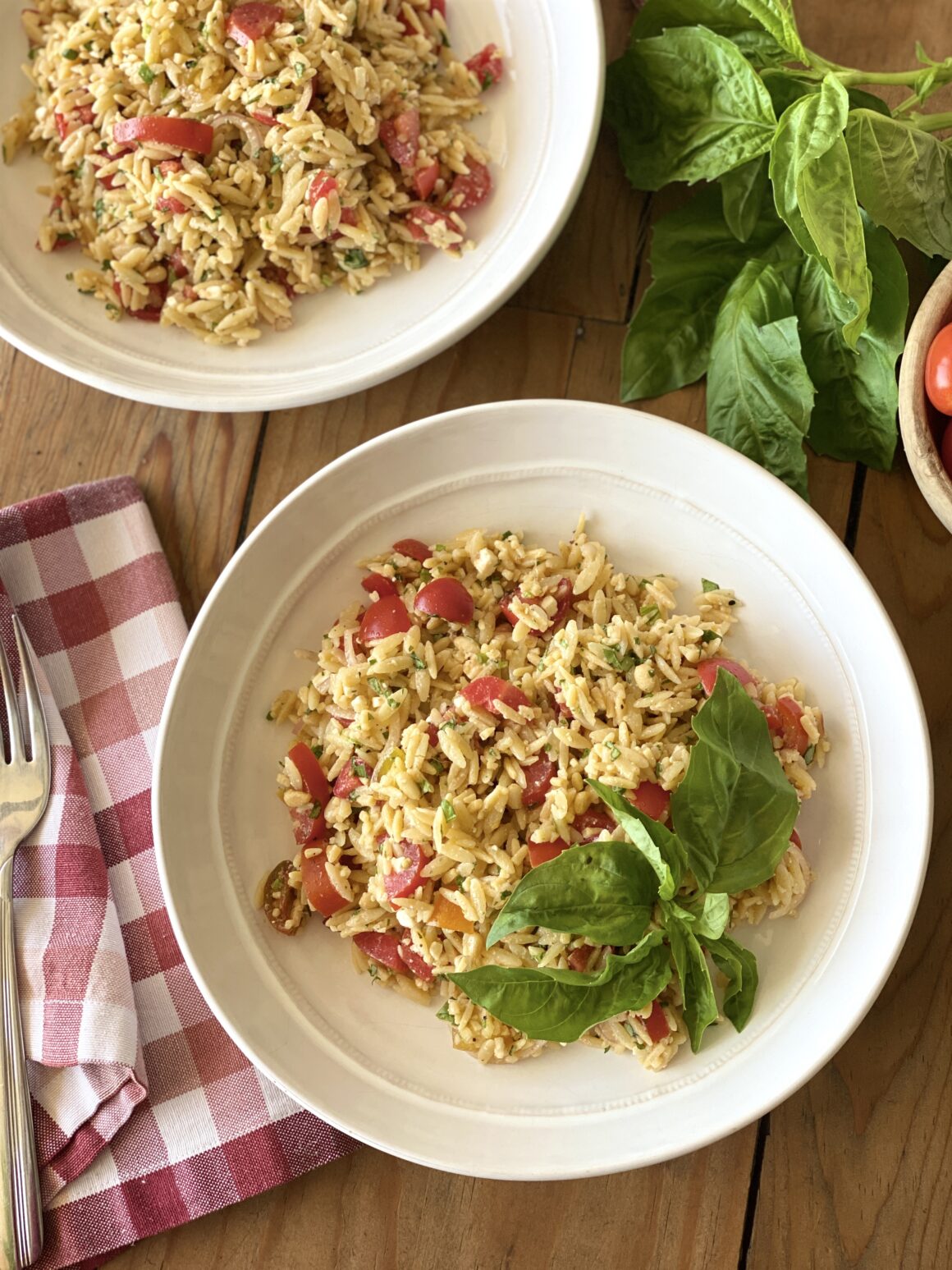 Serves 6-8.
Ingredients
2 cups each orzo pasta and Banza chickpea rice (or 1 pound total of one or the other)
1 shallot, thinly sliced
½ cup pine nuts
2 cups chopped tomato with any remaining juice
4 ounces feta, small dice
1 tablespoon white balsamic vinegar
¼ cup extra-virgin olive oil
1 teaspoon garlic powder
½ cup chopped basil
freshly cracked black pepper
salt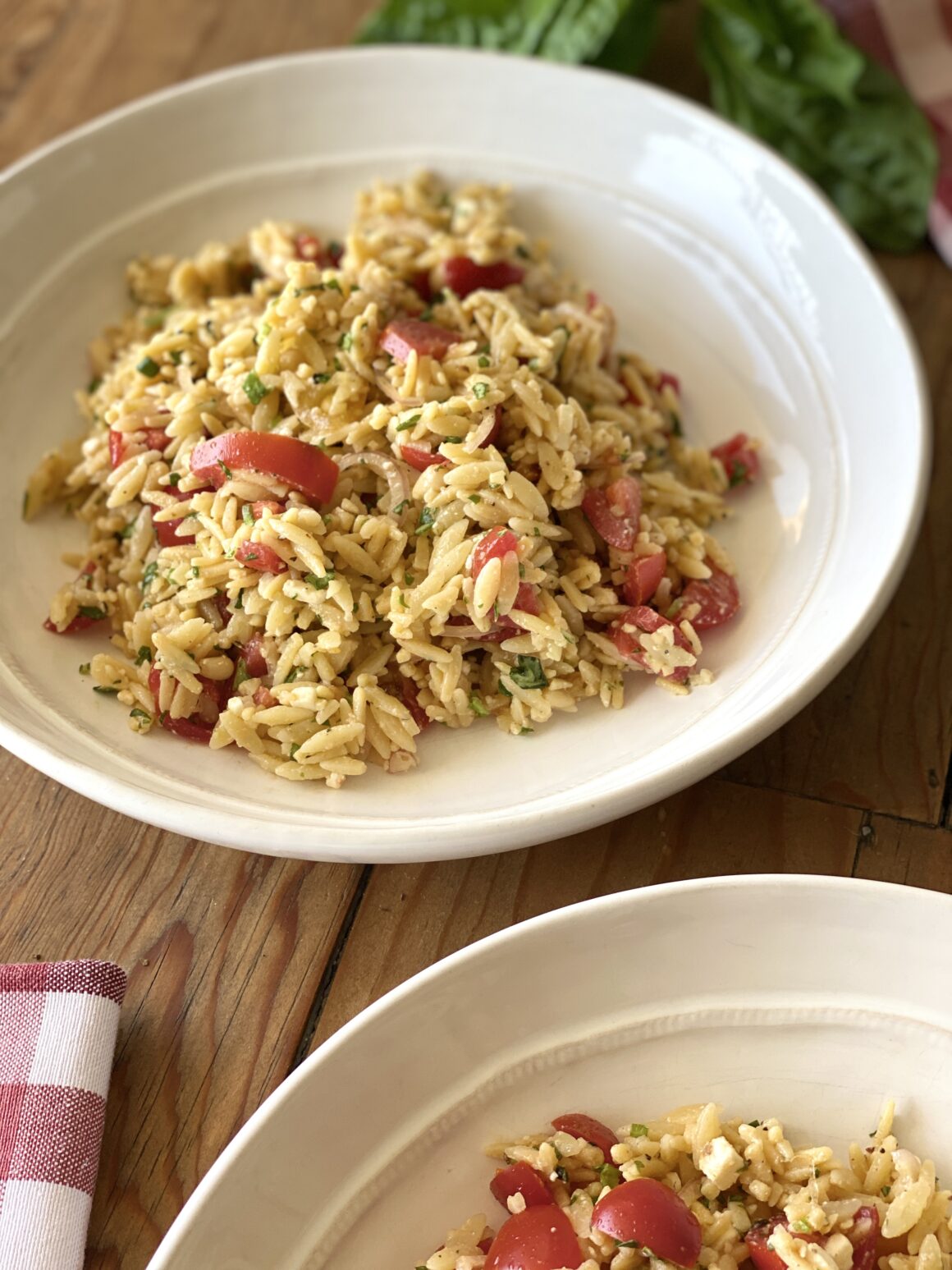 Method
Cook the pasta and/or Banza al dente per package instructions. I cook the two in the same pot and just stagger the cooking times accordingly. Drain and rinse thoroughly with cold water to stop the cooking process.
Meanwhile, place the sliced shallot in a small bowl of ice water to soften its sharp flavor. Toast the pine nuts in a dry pan over medium heat until golden brown.
When the pasta has cooled, place it in a large mixing bowl. Add the shallot, pine nuts, tomato, feta, vinegar, oil and garlic powder. Add most of the basil, reserving some for garnish. Generously season with salt and pepper and toss to combine. Serve room temperature or chilled.
Do ahead: This salad can be made a day or two in advance. Drizzle with a little extra olive oil and taste to check for seasoning before serving.